In today's luxury real estate marketplace, homebuyers' lifestyles, hobbies, and collecting habits are defining their home life and shaping the features and amenities within . As part of its annual 2017 report on the state of the residential property market, Christie's International Real Estate polled real estate executives and agents in the field and asked them which amenities and home features stood out in the current luxury real estate landscape. Here are some of their insights.
Kitchens as Theater and à Votre Santé
Anyone watching a master chef in action soon realizes that cooking is a dance and a kitchen is the stage. Counter space, considered prime real estate even more so than stoves or appliances, is expanding exponentially and also allowing a household's multiple cooks to create in tandem. Precision, efficiency of movement, command of space defines a chef— which so many of us now aspire to be.
When entertaining, guests want to watch their hosts in action. As a result, they tend to congregate in the kitchen, which then grows in stature with "spectator" seating and elegant design.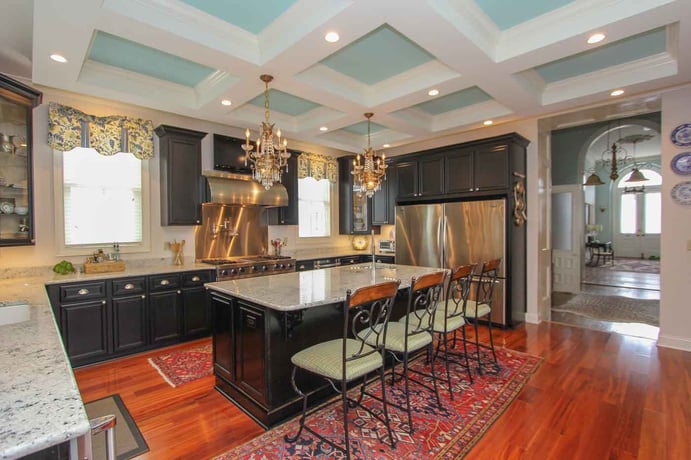 Kitchens are further evolving into the hearth and hub of the family. A great kitchen is said to fuel a healthier lifestyle with more sit-down dinners, conversation opportunities and healthier dining choices than food on the fly. Elaborate indoor herb gardens continue to crop up, so to speak. More elaborate "farm-to-table" garden options in luxury households are taking root, as well.
The 2017 season of Top Chef, the long-running foodie television show, recently wrapped up in Charleston, South Carolina. Helen Geer of local area Affiliate William Means Real Estate explains the importance of a kitchen in selling a home: "The kitchen has become a major entertaining space. Instead of a utilitarian area for someone other than the owner to prepare food, buyers today like to cook and take enormous pride in the meals they prepare themselves. Even if they don't cook, people still like to entertain in the kitchen with hors d'oeuvres or small plates. It is more intimate and welcoming."
Closets: Go Big… No, Go Bigger
Just as your art and your home are the image you project to the world, so are the clothes you wear. That is certainly the reason that closets continue to grow in size and opulence. Across our 101 surveyed markets, numerous brokers across the globe reported that large closets continue to be a highly desirable amenity for luxury home buyers.
It would be difficult to find a closet that can rival the square footage of space once devoted to clothes at "Ocean Lawn" in Newport, Rhode Island, which sold this March for $11.65 million by Melanie Delman of Lila Delman Real Estate. The estate was the longtime residence of Elizabeth Park Firestone, also remembered as a turn-of-the-20th-century fashion icon who amassed so many gowns, dresses and outfits, she once commented that she never had to wear the same thing twice.
Closets are no longer confined spaces. The closet is really another room, not a storage center, and has become almost recreational.
The original closet at "Ocean Lawn" was expanded, swallowing two guest bedrooms and three servants' quarters. When that, too, proved inadequate, she set her sights on the floor above and converted all the rooms overhead to create a massive two-story closet. For her out-of-season wardrobe, she constructed a separate outbuilding on the property.
When the home changed hands in 2000 after the death of Mrs. Firestone, the new owners downsized the closet, reclaiming three bedrooms and a library before selling the estate in 2017.
Raising Your Game
Luxury real estate specialists surveyed report that the passion for recreation at home is only getting more expansive. This year we have seen ice-hockey rinks with Zambonis and warming areas, a BMX pump course, and an irrigated regulation soccer field. One noteworthy home had a slide directly from the master suite to the backyard pool.
While indoor basketball courts have been a staple of luxury homes for some time, there is one in Portland that comes with an ingenious twist; it transforms into a formal ball room-complete with chandeliers and sound systems for grand-scale entertaining. When it is time once more for a game of hoops, the high-brow accoutrements are stored in giant lockers built specifically for that purpose.
Sports continue to play a major role in the amenities on offer at many high-value homes across the globe, with homeowners integrating their preferred sports into properties in new and creative ways.
Bill Hamm of Christie's International Real Estate says "We continue to be amazed at how many homeowners are creatively integrating sports amenities in their home while maintaining the high-end integrity of their luxury property."
Privacy and Security
Beginning with the castle moat, security has been a salient feature of important homes for centuries. What started as basic in-home security systems like ADT have evolved radically for today's most sophisticated residences.
Lulu Egerton of Strutt & Parker, notes, "on a micro level, I think security will be front of mind for many buyers. Fingerprint recognition and other sophisticated security systems—technology will continue to move forward and London will not relax on this front."
Recent security innovations are wonders of technology, and are not surprisingly designed by former military masterminds: outdoor surveillance cameras with night vision to protect a home's perimeters; safe rooms with oxygen scrubbers, back-up generators and Kevlar®-reinforced doors; blast films on windows to make them virtually impenetrable; and ceiling devices that when tripped, fire pepper spray or a fog laced with ingredients to temporarily debilitate unwanted intruders.