With all the news regarding Hurricane Harvey and homes being flooded, I wanted to post this article on Water Management in new home construction.
Water Management
A common design for new houses is to concentrate rain water from several roof surfaces to a small area, which greatly increases the potential for foundation and basement water problems. I marked up the images from some recent new construction to help highlight where a lot of water gets concentrated.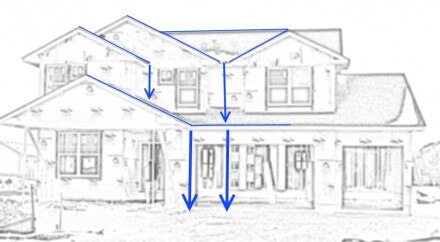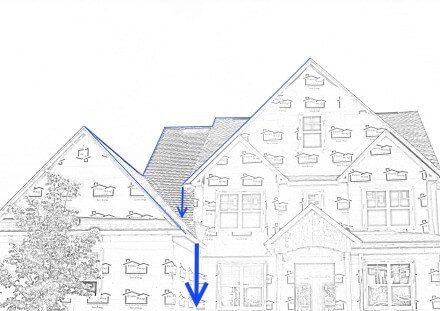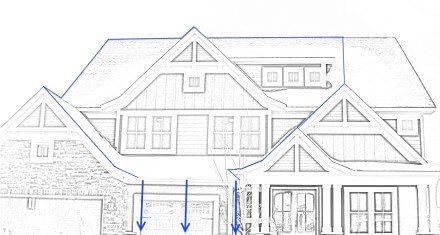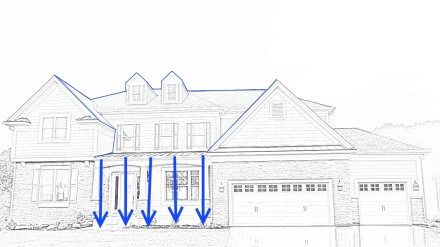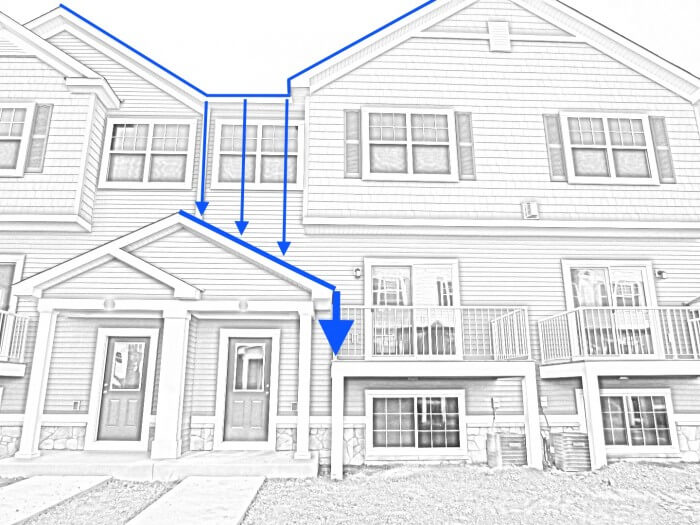 In the last image shown above, all of the water from the upper roof surfaces dumps onto the lower roof, and from there, it dumps onto the corner of the deck right by the patio door. When an invasive moisture testing is conducted in addition to home inspections, and without a doubt, one of the worst areas for water leakage is at the end of deck ledgerboards. I can almost guarantee that water is going to leak into this building before the year is up. Not only that, but this is also a recipe for basement water intrusion. To make things worse, the ground wasn't properly pitched away from the building, and the soil was too close to the stone veneer siding.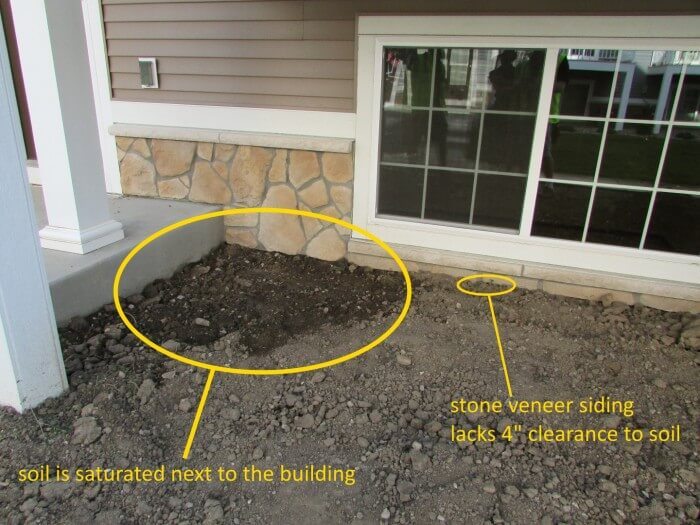 There should be a 4″ gap between the bottom of the stone veneer siding and the earth. How does one even fix all of this stuff? There's not much that can be done about the roof lines at this point, but adding gutters would do wonders for this situation.
The homeowner should have gutters added, whether he had to pay for them out of his own pocket or not. The association wouldn't allow gutters for aesthetic reasons, and less than a month the building was occupied, four of the units in this association ended up with basement water intrusion. The association had gutters installed shortly after that.
Installing gutters would probably help in all of the situations shown above, but gutters are something that should be planned for early on. If you're having a home built, think about exterior water management. Take a step back and think about where all of the water will go. If gutters are going to be installed (and they almost always should be), make sure the downspouts have a good location to drain to. That means not onto a walkway, and not over a walkway. Sometimes, this involves laying down an underground drain. It's cheap and easy to do this before the front walkways are poured. Not so much afterward.